Some web design projects we've worked on
Hire us for your next web design project
Common features or services that can be included on your website
Features in blue are free (if you want them). Features in green cost a bit extra. Features in red cost several bits extra. Don't see what you need? We can probably do it, just ask!
Business Listing on ZimPlaza
Visitor Tracking & Analytics
Additional Staff Training
Search Engine Optimization
Copywriting & Content Creation
Website Firewall & Security
Website Maintenance Services
Your website, just like a car needs regular maintenance and service. Just as you daily refuel a car, check engine oil and refill cooling water, your website also needs daily, weekly and monthly maintenance.
Sometimes it's minor maintenance and sometimes its a major update.  The same goes for a website – it needs regular maintenance!
The solution? Our website maintenance service!
What's included in the maintenance services?
Monthly offsite backup (more frequent for regularly changing sites).
Content updating.
CMS, plugins and script updating (outdated software are one of the chief reasons why websites are hacked).
What's NOT included in the maintenance services?
Website re-design.
Installation of new themes.
Site structure or design changes.
Website Security Services
Your website can be a security risk if not adequately protected. That's why you can't take chances as your good reputation is at stake. Hackers frequently use compromised websites to send spam, ruin your SEO (search engine optimization) ranking so that you won't be found on Google and even to display nasty messages and pictures. The solution? Our website firewall & security service!
What is included?
SQL injection protection.
Brute force protection.
Website malware scan.
WordPress/ Joomla hardening.
IP address blocking.
DoS attack prevention.
How much will it cost?
Prices start from $200 per year for simple sites.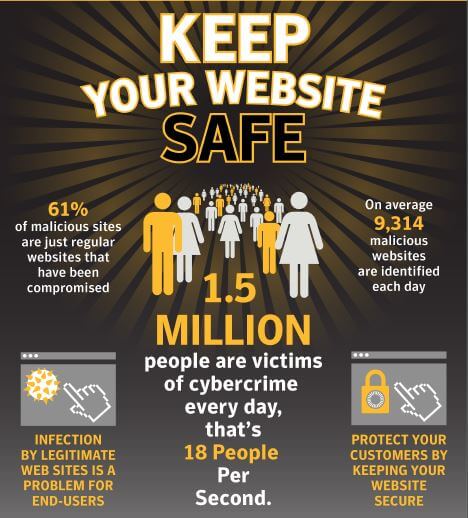 Purchase a GeoTrust RapidSSL today
GeoTrust® is the world's second largest digital certificate provider. More than 100,000 customers in over 150 countries trust GeoTrust to secure online transactions and conduct business over the Internet. Our range of digital certificate and trust products enable organizations of all sizes to maximize the security of their digital transactions cost-effectively.
SSL Certificates
An SSL (secure sockets layer) certificate works by securing data transfer between your website and its visitors. A must for websites that collect customer data e.g. e-Commerce websites. Prevent hackers from stealing data your customers share with you. An SSL certificate stops hackers from tapping into your site to get passwords, credit card details, and sensitive information. We offer GeoTrust RapidSSL certificates with the following features:
$100 per year including certificate, installation and dedicated IP address rental.
$30 per year for certificate only.