Paid Search Engine Advertising
Advertise your business on the most popular search engines.
Increase relevant traffic to your website through paid search engine advertising.
Take advantage of existing demand for your products & services.
Pay only for relevant traffic: limit by geography, days of the week, time-of-day, keywords, etc.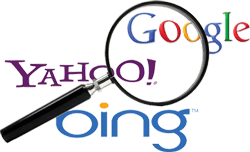 Increase relevant traffic to your website through paid search engine advertising.
Did you know that there are more than 100 billion searches on Google every month? More and more people are turning to their favorite search engines everyday looking for information, products and services. You can target those people who search specifically for products and services that you offer by advertising on Google, Bing or Yahoo.
Key elements of a successful search advertising advertising campaign
Selection of The Proper Keywords
The keywords you target (and pay for) must be specific to what you are offering on your website. If you are a retailer, make sure that people who are looking for the products you sell are funneled directly to a page where that purchase can be facilitated.
Control the Search Experience
It is one thing to get your advertisement in front of the right audience. It is quite another to make the advertisement sufficiently informative, creative or entertaining to compel potential customers to click through to your site. Likewise, just because someone ends up on your website doesn't mean they'll find what they're looking for; it's important that the ad's destination, or landing page, is highly relevant to both the search terms and the expectations set up by the ad.
Understand the Economics Before You Start
This may sound like economics 101, but if you are planning to spend $5000 on a Pay Per Click campaign, then make sure you are generating enough revenues to justify both the financial outlay and the labor costs associated with the campaign. The good news is that you can keep your costs in line by adhering to a strict budget. If you limit your campaign to $100 a day, let's say, your ads will stop being delivered as soon as you hit your daily maximum and then resume the next day. However, if you're spending $20 to sell a $15 shirt, it doesn't matter how many times a day it happens; you're losing money.
Use Metrics to Stay Ahead of The Curve
The terrific thing about a Pay Per Click campaign is that you can immediately monitor your results. This gives you the opportunity to do A/B testing of advertisements, keywords and landing pages. It also gives you an opportunity to quickly end poorly performing campaigns or to enhance the ones that work best for you.
Key Advantages of Search Engine Advertising
Search engine advertising has some unique advantages over other forms of advertising.

Keyword Targeting
Targeting the right keywords through appropriate research will help attract visitors who are likely to be interested in the products and services on your website.
It is critical that the keywords you select are relevant to your company. Nothing bothers a visitor more than being directed to a site that has nothing to do with their search. Even if a user leaves immediately, you're still paying for their traffic. As a result, each PPC landing page should be highly relevant to the keyword you're targeting so that you can get the best possible return on investment out of each PPC visitor.
Geographical Targeting
If you are only looking to attract local customers, you can specify that your ad run only in results that are within your neighborhood, city, or country (e.g. Harare Dentist).
Campaign Scheduling
PPC allows you to deliver ads at peak times for finding your business' potential clients and customers. Using AdWords data in tandem with Analytics data, you can figure out when you are most likely to get leads from Pay-Per-Click marketing and spend more of your budget during peak hours and less during off-hours. If your business isn't open on certain days, you can also adjust your campaigns so that you don't attract potential sales you won't be able to close.
Our Search Engine Advertising Process
Our search engine advertising process allows us to create a campaign that is specifically built with your business goals in mind
Discovery
Learn about the client's business, website and competitors in order to provide clear documentation to be used throughout all other stages of the project.
---
Project Brief
Define client information & business goals along with all required information to properly complete discovery process
Analytics
Budget
Business Goals
Campaign Login Credentials
Audience
Geographic Location
PPC Audit
Create baseline for current website PPC performance based on analytics, landing pages and current campaign statistics
Keyword Research
Define potential target keywords based on business goals outlined in the Project Brief and opportunities found in the PPC Audit
Competitive Analysis
Define PPC competitors and Ad Copy based on Keyword Research and determine areas of opportunity and risk.
Strategy
Create a comprehensive PPC strategy and project plan that clearly outlines deliverables and measurable business goals.
---
Paid Search Strategy
Define Paid Search, Display and Re-marketing campaigns along with ad copy, landing page recommendations, targeting methodologies and recommended budget
Measurement Planning
Document measurable short-term and long-term goals to evaluate campaign performance
Landing Page Creation & Campaign Setup
Implement landing page recommendations from the Paid Search Strategy through development or collaboration with the client.
---
Landing Page Design (optional)
Create designs for optimal converting landing pages with strong calls to action for newly defined campaigns
Campaign Setup
Create or edit existing campaigns based on the Paid Search Strategy
Landing Page Implementation
Create/Edit Landing Pages for the new campaigns and ensure conversion tracking is implemented and page load time is minimized
Optimize
Monitor and adjust campaigns based on the performance of keywords, landing pages and ad copy.
---
Short-Term Adjustments
Change bids, ads, and landing pages based on short term performance indicators (daily or every few days)
Campaign Adjustments
Make global changes to the campaign based on trends that are identified over time (weekly or biweekly)
Analysis & Reporting
Provide regular reporting that includes analysis of campaign performance, KPIs and goal tracking and adjust project plan based on results
---
Monthly Performance Report
Document current standing of goals, campaign metrics, tasks completed and plan for the following month
Quarterly Review
Comprehensive overview of campaign and adjustments to the project plan based on the results achieved
Hire us for your next search engine advertising campaign